Thriving through conflicts
A Lab on Developing Practical Skills in Conflict Transformation and Reconciliation
with Duke Duchscherer
10 - 14 June 2019
Zagroda Ojrzanów near Warsaw, Poland
Spend 5 days cultivating the mindset that allows peace and reconciliation to thrive.
Webinar with Duke - 11th February 2019 at 8 pm CET
Who is this training for?
Do you long to collaborate in more powerful, synergistic ways?
Do conflicts and power differences interfere with your ability to collaborate?
Do you struggle to understand your colleagues or your partners when they are thinking and acting differently from you?
Are you seeking a way to incorporate a culture of peace and shared responsibility?
Do you want to learn practical and immediately usable skills and processes where reconciliation moves from the possible to the inevitable?
This training is especially interesting:
if you are leading, acting in or with groups, teams and organisations
if you are working in peacebuilding and reconciliation, be it in the field or at the organisational level
See the discussion on Facebook
To demonstrate that attitudes can be shifted from

hostile into friendly

one through connection and mutual understanding.

To experience conflict as an opportunity to strengthen teams and communities.

To present a wide range of practical skills in conflict transformation and reconciliation.
To demonstrate how to navigate the complexities and challenges of building human relationships in a conflict.

To create a learning environment to practice all above and apply it in daily life during workshop and afterwards.
In this five-day event you will learn some of the key skills and processes from Nonviolent Communication (NVC) and Restorative Circles (RC) that are essential for building resilient relationships and reconciling communities. NVC & RC offer practical skills and processes to reconcile and to build peace at all levels of society (individual, organizational, communal, and systemic). These skills and processes have been utilized around the world in a variety of cultures and settings where they have proven to be very effective in numerous situations; they are simple, practical, yet often quite powerful.
Develop the personal skills and consciousness to stay grounded and focused within yourself even when uncertainty or your own strong emotions limit your ability to work powerfully and collaboratively.
Develop practical skills to navigate the turbulence of human communication and create resilient sustainable relationships.
Practice transforming the stories and enemy images of the 'other' and experience the emotional pain, frustration, even hatred, melting away into acceptance, appreciation and compassion.
Facilitate processes that empower communities to take ownership of systemic approaches for conflict transformation.
Learn how to build a container for dialogue that can sustain all the pain and intense emotions that arise from experiencing conflict.
Explore the four components of reconciliation and practice the skills and processes that put these components into effective action.
Duke Duchscherer
"My passion for reconciliation lies in the courage of conflicted communities to go from violence to understanding to peace – this transformation is holy ground."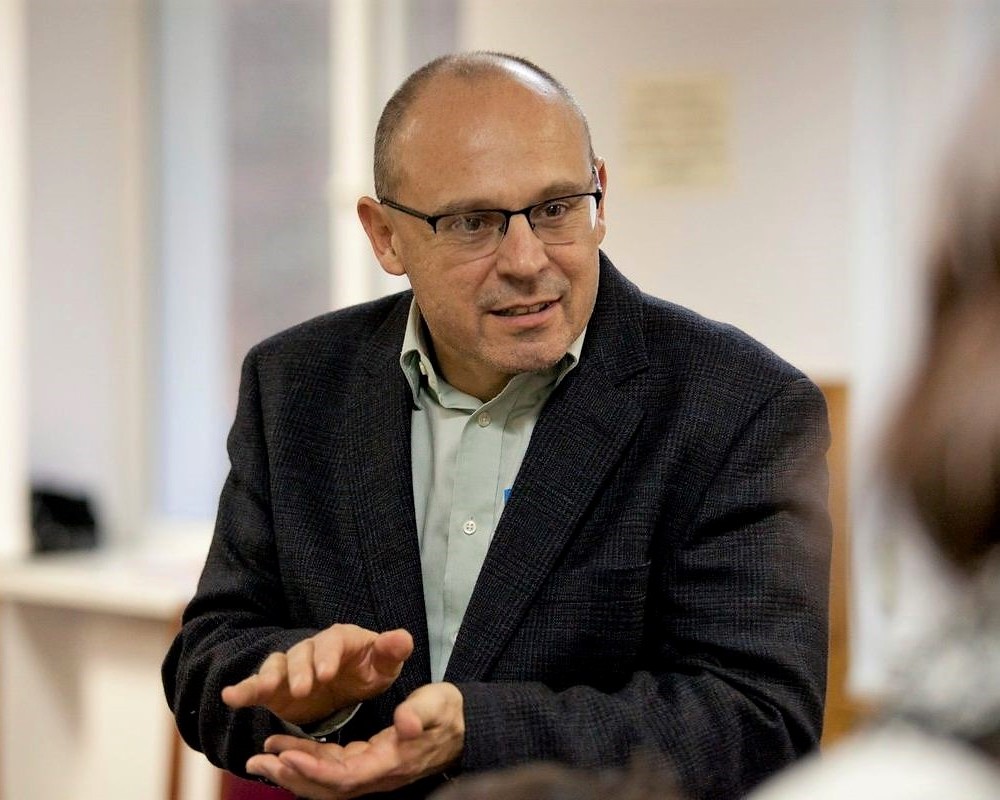 Duke is a Certified Trainer with the International Center for Nonviolent Communication since 2000. He leads reconciliation trainings in many conflict & post-conflict regions of the world and has facilitated hundreds of dialogues between conflicting groups & communities. Some of this work has included supporting peacebuilders & civil rights advocates in giving voice to victims in Sri Lanka's 25-year civil war; facilitating the building of dialogue skills in mixed Moslem – Christian communities in Nigeria; leading a series of restorative dialogues between Ukrainian army and a pro-Russian community near the war front; and helping build the reconciliation skills of two commissions working for Truth and Reconciliation in Nepal after 10 years of civil war (see the documentary In The Eyes of the Good for a look at this work).
What is Nonviolent Communication?
Nonviolent Communication (NVC) is a specific approach to communicating – thinking, speaking and listening – which guides us in transforming old, habitual patterns of relating into new, compassionate ways of acting, expressing ourselves and hearing others. It is founded on language and communication skills which step outside of judgment, criticism, blame, and humiliation, and enable people to connect with the life in themselves and others in ways that inspire a compassionate response. Through the NVC model of communication, relationships, be they intimate or international in scope, become a dance between honest and clear expression and respectful empathic attention.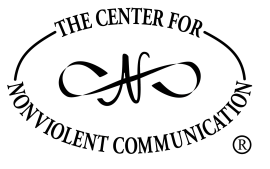 What are Restorative Circles?
Restorative Circles (RC) is a systemic response of community self-care that directly addresses a community's sense of relatedness, belonging, cohesion and connection. It invites us into a whole new way of understanding and experiencing being in community, engaging in justice, and living interdependently.  RC does this by creating a structure and forum through which people can dialogue with respect and understanding in order to reach agreements that sustain effective and nurturing relationships, both personally and within our larger society. RC, as developed by Dominic Barter, has rediscovered and adapted ways for communities to promote responsibility and healing, and recover power on profound levels. It enables us to rethink justice, and to engage with the challenge of consciously building whole system responses to community well-being. This has opened up revolutionary possibilities for furthering a culture of peace. www.restorativecircles.org
How much for the workshop?
We have an unusual and different approach to money. Please take a moment and read our options. For fast readers, just read the blue printing. Thank you!
It is a challenge to find out how to ask for contributions, because we want 4 things at once:
to make the workshop happen so that we and all participants can learn

to make the workshop available regardless of your financial resources

to take care about sustainability of trainers and organizers

to make it easy for you to decide how much you want to and are able to contribute.
We accept contributions both in Euro and Polish Zloty. Please choose the currency that is most convenient for you.
Please choose one of these amounts, if you need ease.
400 EUR / 1700 PLN

- if you register by the end of January 2019

500 EUR  / 2200 PLN

- if you register after 31st of January 2019
If you are participating on behalf of a company which covers your cost and you will use these tools in business, we ask you to contribute 1000 EUR / 4300 PLN.
Sliding scale
If you want to choose a different amount, please read the following:
We need to collect 6 000 EUR / 26 000 PLN to make this event happen with all external costs covered (room and board for trainers and organizers, transportation costs, materials, conference rooms).
We need to collect 16 000 EUR / 69 000 PLN to cover all external costs of the workshop and to take care of material needs of trainers and organizers (organizing this workshop impacts our financial sustainability - it is taking us 9 months).
So, we invite you to decide how much you are willing and able to contribute by using the sliding scale 200 - 2000 EUR / 850 - 8600 PLN and following the guidelines below:
if you have stability in salary, savings and security in your financial situation, please choose an amount between 400 - 2000 EUR / 1700 - 8600 PLN.
if you struggle with financial resources, please choose an amount between 200 - 400 EUR / 850 - 1700 PLN or contact us to find an option that works for all of us (e.g. installments).
Registration finalisation
Please finalise your registration process with your contribution within 7 days after sending your registration form to:
Company Name: Rubikon Marta Kułaga
IBAN: PL 02 1050 1445 1000 0091 4893 7189
SWIFT: INGBPLPW
Bank Name: ING Bank Śląski
Reference: "Thriving through conflicts 2019" and your first & last name
Please ensure that the cost of money transfer is on your side.
For foreign transfers we recommend using https://transferwise.com or paying via Revolut if you are a card holder of this service.
Please contact us if you have any questions or doubts concerning registration or contributions.

Cancellations
We will gladly refund what you have given minus:
50 EUR / 200 PLN to cover our administrative costs, if you cancel by April 24th, 2019

250 EUR / 1000 PLN to cover venue costs in addition to administrative costs, if you cancel by May 14, 2019
We offer no refunds, if you cancel after May 14, 2019.
We accept name changes (i.e. replacements). Please contact us to see what is possible.
How much for the lodging & food?
The workshop will be held in Zagroda Ojrzanów which is located near Warsaw in beautiful surroundings. It is an amazing place with a small lake for swimming, bikes to rent, forest to walk in, and great food. Due to remote location, the internet access is very limited.  It takes half an hour by car from Warsaw Airport Okęcie (WAW) or central train station and an hour from Modlin Airport (WMI). We are willing to support you concerning transport arrangements.
The venue offers a wide choice for your accommodation. You can stay in a room, under tent or even in a barn on hay. Room and board costs are separate from the contributions toward the sustainability of the workshop team, and are given to different organizations. These are non-negotiable and required by our host venue. You will pay in cash only in Polish Zloty PLN directly to the venue owners when you arrive. Room assignments are subject to availability and are first-come-first-served. While registering you will specify your preferences about accommodation, food and transportation.
Please see options of food and accommodation for the whole retreat. Packages include meals starting from lunch on 10th June ending with lunch on 14th June.
All Meals + Bed + Coffee Breaks – 820 PLN

All Meals + Tent + Coffee Breaks – 600 PLN (please bring your own sleeping bag, mat & tent)

All Meals + Barn + Coffee Breaks – 600 PLN (please bring your own sleeping bag & mat)

Lunch + Supper + Coffee Breaks – 470 PLN

Lunch + Coffee Breaks – 340 PLN

Coffee Breaks – 130 PLN
Please feel free to contact us at thriving.through.conflicts@gmail.com about accommodation, meals and transportation, if you need more information before registering.
Organizing team:
Magda Barańska
Marta Kułaga
Piotr Leszczyński
Jürgen Licht
Seminar Hours:
Monday 10 June, 11 am – Friday 14 June, 3 pm
Language:
The workshop will be held in English. If it makes impossible or difficult for you to participate, please contact us.
In the Eyes of the Good
This is a demo video providing an insight into the work done by Duke Duchscherer while helping in building the reconciliation skills after 10 years of civil war in Nepal. (If you cannot watch the whole movie maye you can take a look at the crucial bit between 28.30- 31.15).